Model Upgrades
TRADE & UPGRADE to a
NEW Generation of Alpha-Stim®
Offer valid with purchases or rentals of
Alpha-Stim® AID or M directly from Allevia Health.
Buy Now, Pay Later!
You can now pay on a schedule that works for you. After placing this item in your cart, select BillMeLater® during checkout.
learn more about this service
$200 off trade-in promotion
for your old Alpha-Stim® device
We accept any old, broken or out-of-warranty Alpha-Stim devices.
You May Ask
New models of Alpha-Stim are 100% clinically equivalent to the old models. In other words, they are as effective and safe as Alpha-Stim 100, SCS or PPM used to be. The new models, however, include a slew of new user-friendly features that make your treatment easier to do and more enjoyable.
No, both Alpha-Stim AID and Alpha-Stim M use new and unique earclip electrodes and leads that do not fit other models.
Yes, all models of Alpha-Stim use identical supplies, including conducting solution, earclip or probe pads, or self-adhesive electrodes.
Yes, you can apply the entire trade-in credit for your old Alpha-Stim towards that last 2 months of a rental agreement if you decide to rent a new model of Alpha-Stim from Allevia Health.
Features of NEW Alpha-Stim include:
Full digital control for precision, consistency and reliability.
Back lighting when any button is pressed.
Continuous circuit check when electrodes are in contact with skin.
Continuous time elapsed timer.
Large timer display.
Frequency, current and treatment time may be locked to preset values throughout entire treatment session.
Mute option of all functions (except Smart Probe).
Cumulative timer.
Lanyard so the device can be worn around the neck.
30 minute auto-off when not in use.
2 AA or 2 AAA batteries (included).
Battery strength indicator.
5 year warranty.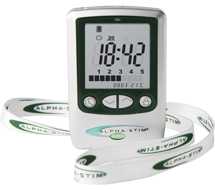 Read more +
Introducing
Alpha-Stim® AID
cranial electrotherapy stimulator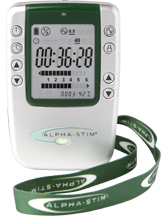 Read more +
Introducing
Alpha-Stim® M
microcurrent & cranial electrotherapy stimulator