Description
Spinal Health
Healing Friends air stretching mat from GAPO is a revolutionary new product for spinal health. Using a patented, multi air-chamber technology, the Healing Friends mat gently stretches your spine from sacrum to the neck vertebrae to strengthen your back muscles and ligaments and to improve your body balance and posture.
GAPO Healing Friends benefits:
Provides gentle stretching of back muscles and spine
Provides a soothing massage of your back, from neck to pelvis
Facilitates alignment of the spine
Strengthens spine-supporting muscles
Helps correct bad body posture
Reliefs neck and back spasm and pain
Reduces body stiffness and enhances flexibility
Helps increase circulation and reduce tension in your muscles and joints
Special Features:
5 built-in air chambers
Automatic or Manual mode available
Operating time: 15 or 30 minutes
3 variable air discharging options: 4, 6 or 8 seconds
8 levels of air-chamber pressure range (20-520mmHg)
Remote control operation available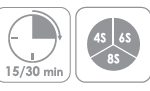 GAPO Healing Friends stretching mat contents:
Stretching mat
Main air pressure controller
Remote control
User's guide
Technical specifications:
Voltage: AC 100-240 4A, 50/60Hz, 50W.
Pressure range: 20-520mmHg
Timer: 15, 30min
Weight: stretching mat – 6.5lb (2.95kg); main controller – 2.8lb (1.29kg).
Dimensions: stretching mat – 25in x 39in (635mm x 1000mm); main controller – 4in x 8.5in x 8.5in (100mm x 215mm x 215mm)
Warranty: Main controller (1 year), stretching mat (6 months).
Certificates:




See Owner's Manual for complete details.