Revolution in Anxiety Control & Pain Management Without Opioids, all in one easy to use device
Clinically proven relief from anxiety, insomnia, depression and pain. Use Alpha-Stim in your doctor's office or in the comfort and safety of your home.
Feel and sleep better in 30 days or your money back!
Clinically proven and safe
Get the Relief you deserve!
Get dramatic relief fast.  Alpha-Stim is an FDA-cleared, easy-to-use, handheld prescription  medical device that restores natural balance to mind and body using a painless microcurrent.
Alpha-Stim Technology
Alpha-Stim generates a unique, patented waveform that no other device can replicate with proven safety and efficacy.
Patients Individuals
Get the relief you deserve! Talk to your healthcare provider to see if Alpha-Stim is right for you.​
Healthcare Professionals
Alpha-Stim is FDA-cleared to treat four indications, including anxiety, insomnia, depression and pain.
Alpha-Stim Devices
Therapeutic, lasting results without the risk of dangerous side effects, tolerance and addiction.
For Healthy mind and Body
Alpha-Stim® is the drug-free, clinically proven treatment to alleviate anxiety, insomnia, depression and pain. Alpha-Stim® generates a unique, proprietary microcurrent waveform that no other device can offer. Much like every white pill is not the same, the uniqueness of Alpha-Stim®'s waveform produces results vastly different from other devices.
The waveform is analogous to the precise chemical compound that differentiates one drug from another. Alpha-Stim's waveform is distinctive in its proven safety and efficacy.
Use Alpha-Stim daily or as needed to control anxiety symptoms with cranial electrotherapy stimulation (CES). ​Anxiety reduction is usually experienced during a single 20-min treatment and may last for hours or days thereafter.
After 5 weeks of treatment with Alpha-Stim CES, participants
reported an average of 94% decrease in anxiety.2
Alpha-Stim provides a drug-free treatment of insomnia without the side effects of medication. Insomnia is usually improved after the initial treatment but may take up to 4 weeks to see a significant change. It can also be used when awakened during the night.
The number of subjects rating their quality of sleep as poor dropped from 60% at the beginning of the study to 5%.3
Alpha-Stim offers a safe and effective alternative to medication in the treatment of depression. Depression typically takes at least 3 weeks or more of daily treatment to experience significant improvement.
After 6 weeks of depression treatment, Alpha-Stim users experienced 43% improvement.4
Use hand held probes or self-adhesive electrodes to treat acute, post traumatic or chronic pain. Pain relief is usually experienced immediately or it may continue to diminish hours after treatment.
In a study of severe pain patients, Alpha-Stim significantly reduced pain by an average of 71% after only 5 treatments.1
Patented U.S. Microcurrent Waveform Technology
Alpha-Stim generates a unique, patented waveform that no other device can replicate, distinctive in its proven safety and efficacy.
The Most Recommended CES Device in the World
For almost four decades, Alpha-Stim has been the gold standard of CES in the world.
The Most Researched Device in its Class
The efficacy and safety of Alpha-Stim is backed by more independent research than there is for all other CES devices combined.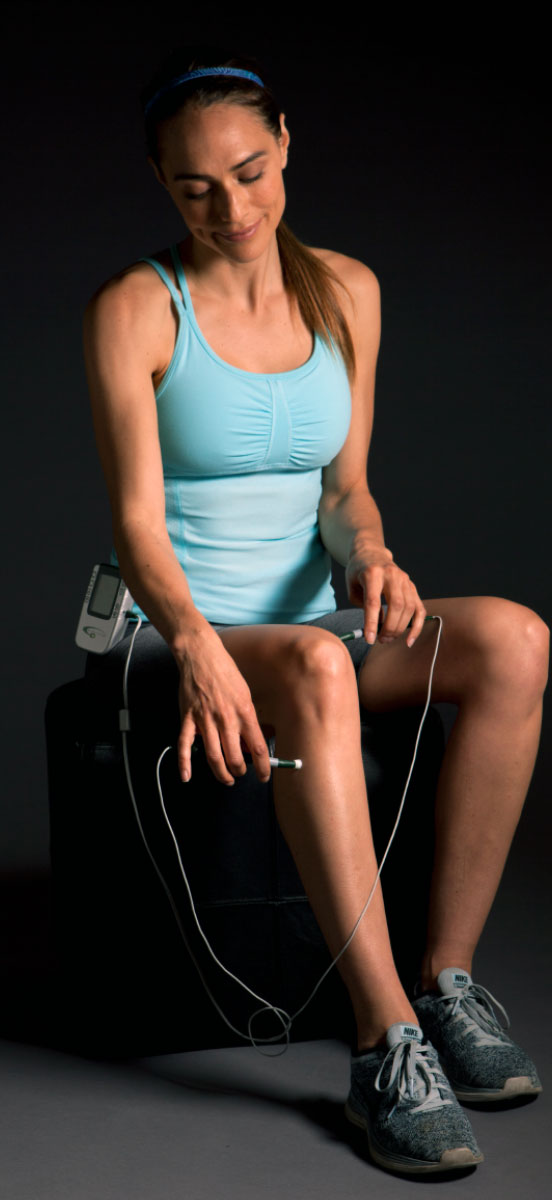 Safe to Use With or Without Medication
Alpha-Stim uses safe, ultra-low (0.5Hz), frequencies and less than 1mA of current during treatment.
Clinically Proven & Effective
Millions of patients have been treated with our devices worldwide. Try it yourself, and get the relief you deserve!
30-Day Money Back Guarantee. 5 Year Warranty & FREE Expert Support for Life
Purchase with our money back guarantee or rent-to-own. Our devices include a comprehensive manufacturer warranty, and free  support.
Alpha-Stim offers unparalleled benefits in the treatment of anxiety and insomnia, all without medication side effects or dependence. With a simple 20 minute treatment, our devices can be used with your therapist during cognitive behavioral therapy sessions or prescribed for patient home use. Alpha-Stim is an ideal solution to control mood and sleep disturbances, and can be used daily or as needed to control symptoms of a high stress environment in the safety and comfort of your home.
Alpha-Stim is the perfect solution for students in high-stress educational environments to control anxiety and improve their sleep while reducing reliance on prescription medications. Alpha-Stim treatments can be offered at university wellness centers to students and faculty, during therapy sessions with university counselors or prescribed for home use. Alpha-Stim can often reduce the need for behavioral therapy thus decreasing waiting times for other students seeking access to needed counseling services.
Alpha-Stim is very effective at quickly reducing acute (state) anxiety and can be used in a variety of medical and dental settings with procedural anxiety such as dental clinics, hospital emergency rooms and trauma centers, surgeries, dialysis, chemotherapy, blood draws, pap tests, etc. The device can also be used by relatives and friends of patients undergoing procedures while waiting in designated areas.
Stress and burnout are legitimate concerns among today's first responders, forcing many to suffer in silence from anxiety, insomnia, depression, and pain. Alpha-Stim is an effective non-invasive, non-drug treatment bringing significant relief to these professionals in as little as 20 minutes a few times per week and allowing them to perform optimally and enjoy a higher quality of life at the same time.
Veterans Care & VA Whole Health Initiative
Alpha-Stim devices are now available to veterans as a non-drug treatment option for pain, anxiety, insomnia and depression under FSS Contract #V797D-40228. A VA Houston study found that 73% of veterans suffering from chronic pain along with mood and sleep disorders chose Alpha-Stim over other devices. Alpha-Stim is an ideal solution for complementary self-management strategies of chronic pain and stress under the tenets of the VA Holistic Whole Health Initiative.
Drug-free Alpha-Stim has been found to be an effective treatment for the debilitating pain and overwhelming anxiety and depression that cancer patients often suffer. Alpha-Stim can also be used to control side effects of radiation therapy or effectively manage stress and anxiety during chemotherapy treatments. Research shows that many cancer patients using Alpha-Stim are able to sleep and function better and use less medication.
While used in business offices and retail locations, Alpha-Stim can benefit employees by reducing their stress and improving their sleep, mood and quality of life. When used over time, the treatment can significantly reduce the business healthcare costs, increase employee productivity and boost the company's bottom line.
Select the Alpha-Stim That's Right For You
Alpha-Stim technology is available for home use in two easy-to-use devices. Alpha-Stim devices can be ordered (prescribed) by a wide range of licensed healthcare providers, including physicians, mental health therapists or dentists.
Alpha-Stim® M is the most versatile product, and the only choice for those who want to treat anxiety, insomnia, depression as well as pain.
Patients benefit because they receive a safe, efficacious and cost effective intervention that not only controls pain and may initiate or accelerate healing, but also normalizes numerous physiological control systems in the brain as evidenced by electroencephalographic (EEG) research, resulting in a much less anxious or depressed, more enthusiastic approach to a better quality of life.
I am thrilled with my Alpha-Stim®. It has really helped with my insomnia and I am now sleeping like a baby. It took about three weeks before I noticed a change there, but my anxiety level at work has changed dramatically (within 3 days of start). I use it daily in the morning and find it helps my stamina at work, as well. Not energy, mind you, but real stamina. My patients love it too. Many of them would be able to give dramatic testimonials.
This is to let you know how VERY thrilled I am with my Alpha-Stim®. It has done wonders to control my pain. I no longer take pain pills 4 times a day. My husband has even remarked that I must be feeling a lot better because I am actually combing my hair and putting earrings and lipstick on. In others words taking some time to make myself look presentable because I am not so consumed with pain. ... Again a BIG THANK YOU.
Before I used the Alpha-Stim® I had a problem with insomnia, I was waking up about 2 AM and then wasn't able to go to sleep again until about 6AM. After I started using the Alpha-Stim®, this problem was resolved and I have not had the insomnia since. Three cheers for Alpha-Stim® and Dr. Hake who recommended it to me!
My wife got the Alpha Stim while going through therapy for back and muscle pain. I started using the Alpha Stim to see if it would relieve the pain I have suffered in my knee since I had surgery on it over 4 years ago. After only 2 days of using the electrotherapy stimulator the pain has disappeared. I would not have believed this was possible if I had not experienced it for myself.
... The product has been wonderful. I feel so much more relaxed and seem to let things slide off my back more now. I do not feel as tense as I used to feel. Life has changed for me in that I am more easy going and handle life's daily pressure much better now. I feel more at peace with myself and life. The little things that I used to make into big things now are little as they should be.
Copyright 2020© Allevia Health, Inc.
USER RESULTS AND SATISFACTION
Patient self-reports after using Alpha-Stim technology for at least 3 weeks.
Since 1981, Alpha-Stim has brought relief to countless patients throughout the world. Surveys of Alpha-Stim users show overwhelming evidence of the effectiveness and safety of the Alpha-Stim technology.
% of Users Reporting Significant Improvement (>25%)*
CLINICAL RESEARCH RESULTS
Over 100 clinical studies prove the safety and effectiveness of Alpha-Stim. These studies were conducted independently, and all used the Alpha-Stim device specifically.
Source: 1 Holubec JT. Practical Pain Management. 2009;9(9):80-83. 2 Barclay TH, Barclay RD. Journal of Affective Disorders. 2014;164:171-177. 3 Lichtbroun et al. Journal of Clinical Rheumatology 2001; 7(2):72-78. 4 Bystritsky et al. Journal of Clinical Psychiatry 2008; 69:412-417.
REDUCE PAIN
In a study of severe pain patients, Alpha-Stim significantly reduced pain by an average of 71% after only 5 treatments.1
DECREASE ANXIETY
After 5 weeks of treatment with Alpha-Stim CES, participants reported an average of 94% decrease in anxiety.2
GET BETTER SLEEP
The number of subjects rating their quality of sleep as poor dropped from 60% at the beginning of the study to 5%.3
LIFT DEPRESSION
After 6 weeks of depression treatment, Alpha-Stim users experienced 43% improvement.4